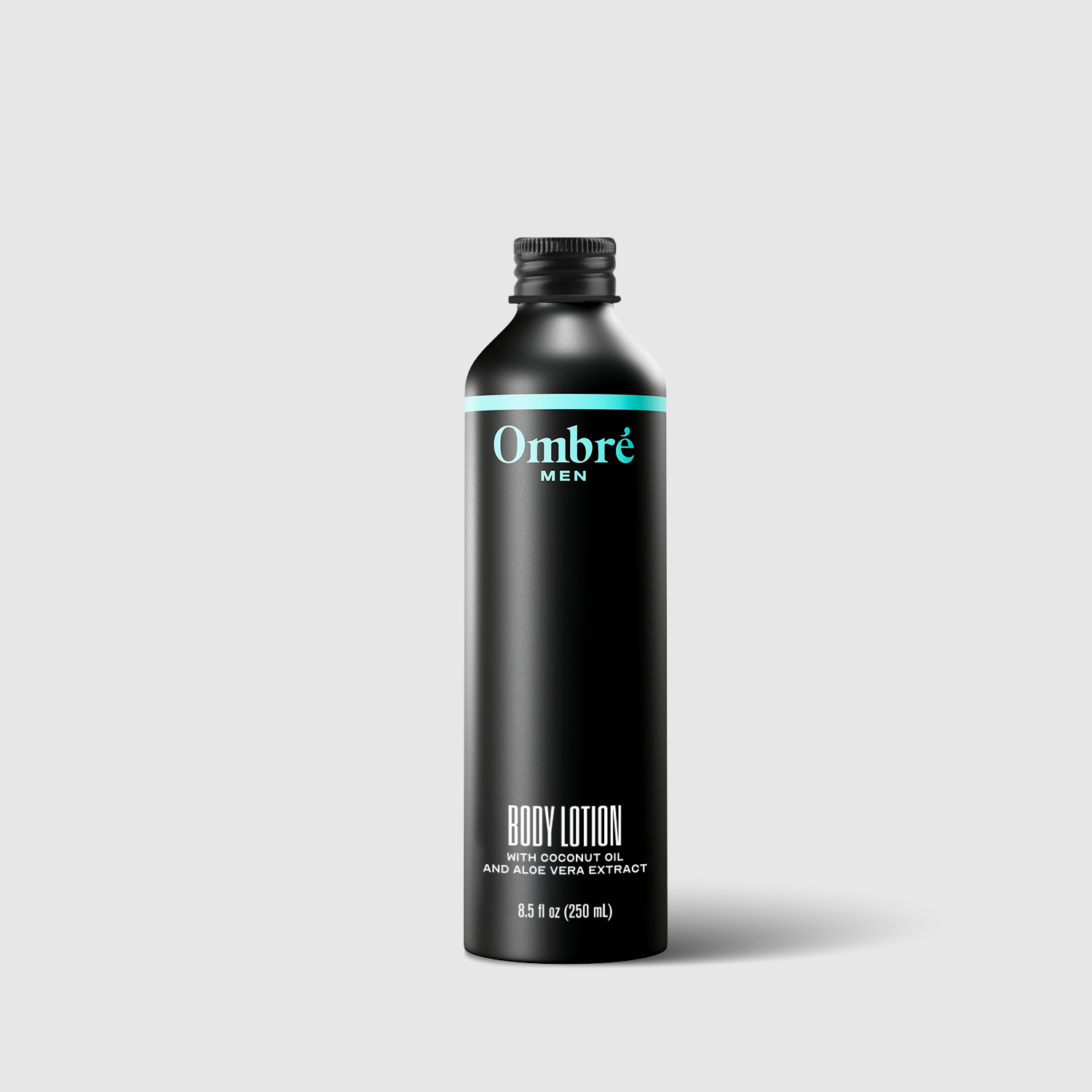 Body Lotion
8.5 fl. oz / 250 mL
Our lightweight and non-greasy Body Lotion provides nourishment, giving your skin hydration that lasts all day long.
Our Body Lotion is expertly formulated to provide long-lasting moisture without leaving any residue or stickiness. Enriched with powerful anti-aging compounds, it delivers hydration and protection to your skin, while also supplying a rich blend of antioxidants and minerals.
By shielding your skin from free radical damage, our Body Lotion promotes cell and tissue renewal, helping to reduce the appearance of fine lines and wrinkles.
Elevate your game with Ombré Men's Body Lotion - Crafted for the modern man.
DIRECTIONS

Apply daily as needed.
BENEFITS
Keep skin feeling fresh and hydrated all day long. Our body lotion is packed with antioxidants to protect and nourish skin.
INGREDIENTS

Water, Olive Oil, Almond Oil, Coconut Oil, Argan Oil, Cetearyl Olivate, Sorbitan Olivate, Glycerine, Aloe Vera Extract, Shea Butter, Cucumber (Cucumis Sativus) Extract, Chamomile (Chamaemelum Nobile) Extract, White Willow Bark (Salix Alba) Extract, Pentylene Glycol, Sodium Benzoate, Sorbic Acid, Tocopherol, Bitter Orange (Citrus Aurantium) Oil, Italian Cypress (Cupressus Sempervirens) Oil, Scots Pine (Pinus Sylvestris) Oil, Alligator Juniper (Juniperus deppeana) Oil, Patchouli (Pogostemon Cablin) Oil, Vetiver (Chrysopogon Zizanioides) Oil, Geraniol, Limonene, Linalool.
Body Lotion
All Day Hydration
🚫 No greasy feeling
🚫 Won't clog pores
🚫 No synthetic scents
✔️ pH balanced formulation
✔️ Easy on sensitive skin
✔️ All-natural & no BS