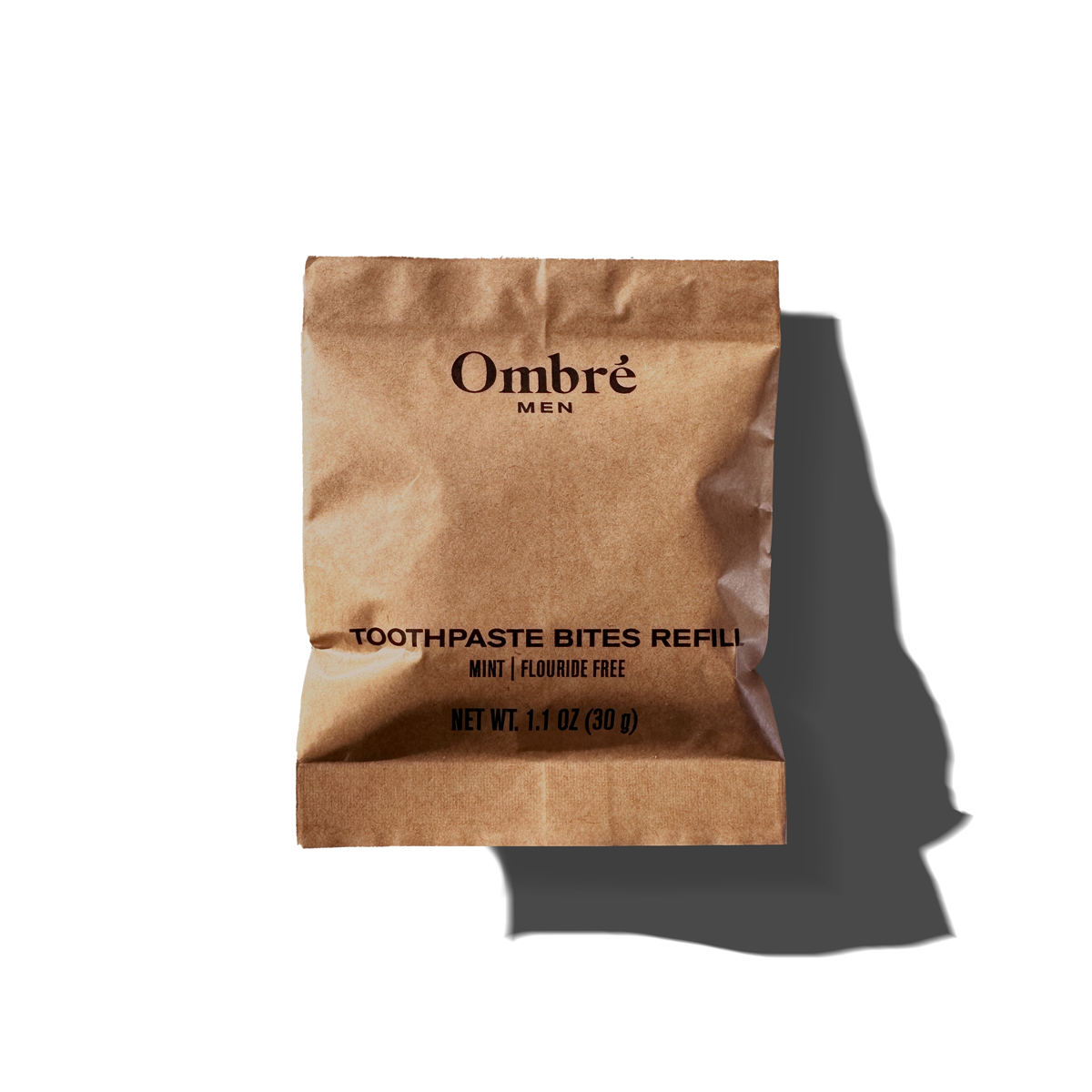 Toothpaste Bites
Net Wt. 1.1 oz / 30 g
Our Toothpaste Bites are fluoride-free, mess-free, and the perfect way to brush better.
One jar equals about 2.5 months of brushing morning and night. That's nearly 3 times the uses of a standard-sized tube of traditional toothpaste.
Lose the wasteful, traditional plastic toothpaste tubes and get our natural, cleaner Toothpaste Bites. They are formulated with natural whitening compounds that effectively clean and freshen your mouth. Our Toothpaste Bites deliver that foamy feeling, just like traditional toothpaste, providing a refreshing and minty clean feeling with each use.
Their compact size makes them perfect for travel, so you can maintain your routine on the go. Upgrade your brushing experience with our all-natural Toothpaste Bites today.
HIGHLIGHTS:
No chemicals or artificial flavors
Helps to whiten your teeth
Mess-free, convenient, and great for travel
Refillable
DIRECTIONS

Place 1-2 tablets in your mouth and crush, wet your toothbrush and brush. Use daily.
BENEFITS

Our Toothpaste Bites deliver a more effective way to brush your teeth. Formulated with natural whitening compounds. Each bite leaves your mouth feeling clean and minty fresh.
INGREDIENTS

Calcium Carbonate, Mint, Microcrystalline Cellulose, Sodium Cocoyl Isethionate, Lactose, Silicon Dioxide, Saccharin, Sucralose, Sodium Bicarbonate, Xylitol, Erythritol, Menthol, Eucalyptol, Magnesium Stearate.
Toothpaste Bites
A BEtter way to brush
🚫 No fluoride
🚫 No synthetic flavors
🚫 No artificial chemicals
✔️ Convenient, mess-free
✔️ Naturally whitens teeth
✔️ TSA carry-on approved
✔️ All-natural & no BS
What? How?
What are toothpaste bites?
Our Toothpaste Bites are a plant-based toothpaste formula made without water and then pressed into a tablet-form. Ours are 100% natural, fluoride-free, travel-friendly, and overall better than traditional toothpaste.
Every year, a staggering one billion single-use toothpaste tubes are discarded, contributing to the plastic waste pile up around the globe. Our goal is to help mitigate this issue by creating a sustainable option that not only promotes a healthier smile but also strives to become the most eco-friendly.
Crush 1-2 Tablets
Pop 1-2 tablets in your mouth and chew them.
Wet Your Toothbrush and Brush
Wet your toothbrush and start brushing like normal. The crushed tablets will dissolve even more and turn into that familiar foam we all love.
One tablet gives you some foam, two tablets give you more foam, if you want more, add a third tablet.
Brush Like Normal
We're all told to brush for for 2 minutes. If you're brushing for 1-2 minutes, you'll find the tablets are completely dissolved and no longer in your teeth. Smile knowing you just had a healthier, easier, cleaner brushing.